Drive Forward and Reverse Preview
8 - 15 years old
45 - 190 minutes
Beginner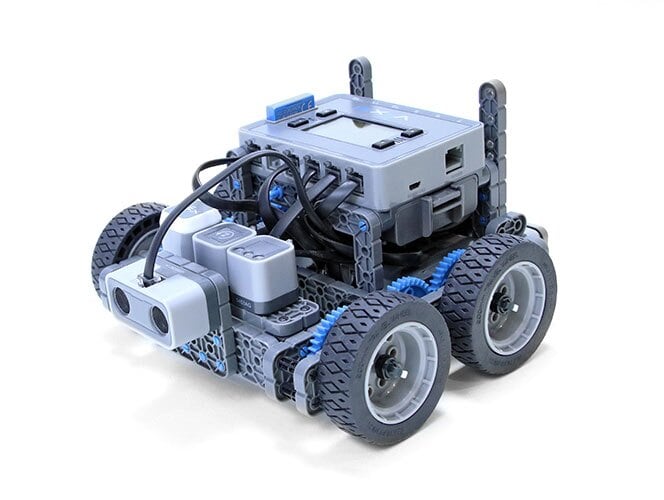 Description
Students will explore robot behaviors and create code to drive the Autopilot robot forward and in reverse.
Key Concepts
Robot Behaviors

How to create, download and run a project

Programming forward movement

Programming backwards movement

How to save a project
Objectives
Build an Autopilot robot and configure the Smart sensors.

Identify programming behaviors.

Program the Autopilot to drive forward and in reverse.

Explore drivetrain programming blocks and test student created programs.
Materials needed
VEX IQ Super Kit

VEXcode IQ

Engineering Notebook
Facilitation Notes
Teacher support, discussion questions, tips, and student assessment are all organized in the STEM lab to give the teacher a successful engagement.

VEXcode IQ and the VEXos Utility should be downloaded to each student device that will be used for programming the Autopilot.

Students should become familiar with the pieces before beginning to build the Autopilot. Each Superkit contains a poster containing true size representations of all the pieces contained in the kit.

Batteries should be charged prior to the start of the STEM lab.

An engineering notebook can be as simple as lined paper within a folder or binder. The notebook shown is a more sophisticated example that is available through VEX.
Educational Standards
Standards for Technological Literacy (STL)
2.M

2.N

9.F

9.G

9.H

11.K

11.L
Computer Science Teachers Association (CSTA)
Grades 3-5

1B-CS-03

1B-AP-08

1B-AP-10

1B-AP-11

1B-AP-16

1B-AP-10

Grades 6-8
Next Generation Science Standards (NGSS)
Common Core State Standards (CCSS)
WHST.6-8.4

RST.6-8.3

CCSS.MATH.CONTENT.5.MD.A.1

CCSS.MATH.CONTENT.5.MD.B.2

CCSS.MATH.CONTENT.4.OA.A.1

CCSS.MATH.CONTENT.3.OA.A.1

CCSS.MATH.PRACTICE.MP4
Texas Essential Knowledge and Skills (TEKS)
111.26.b.1

111.26.b.12

126.16.c.6

126.16.c.4
Florida State Standards (CPALMS)
SC.68.CS-CS.2.13

SC.68.CS-CS.2.14

SC.68.CS-CS.2.2

MAFS.5.MD.1

MAFS.5.MD.2

MAFS.5.MD.3
Indiana Academic Standards (IAS)
SC.68.CS-CC.1.3

SC.68.CS-CS.1.1

SC.68.CS-CS.1.3

SC.68.CS-CS.1.4

SC.68.CS-CS.2.10

SC.68.CS-CS.2.11

SC.68.CS-CS.2.12

SC.68.CS-CS.2.13

SC.68.CS-CS.2.14

SC.68.CS-CS.2.2

MA.5.M.1

MA.5.M.3

MA.5.DS.1