Prepare for the Tower Strength Challenge
Teacher Toolbox - The Purpose of this Section
The Tower Strength Challenge will allow students to explore the concept of structure stability by testing the strength of their towers against a simulated earthquake on the Earthquake Platform.
Teacher Toolbox - Students' Challenge Roles
Have students get back into the same groups from the Round 2: Improve Your Design activity. The following roles can be utilized during the Tower Strength Challenge:
Builder - This person checks that the Earthquake Platform is properly built and ready (e.g., Is the motor plugged into the correct port? Is the Robot Brain turned on?).

Tester - This person places the tower on the Earthquake Platform and operates the Brain to simulate the earthquake.

Recorder - This person records the outcome of the Tower Strength Challenge and documents any improvements planned and/or later tested during the Improve and Tinker with Your Build activity.
If there are more or less than three students in each group, multiple students can be assigned to the same role or students can assume multiple roles.
Provide the list of roles and their definitions to the students. Once students are in their groups, allow the members to choose their role. Circulate the classroom and makes sure that every student has a role. There is an optional collaboration rubric on here (Google Doc/.docx/.pdf).
Remind the students of roles throughout the exploration.
To evaluate engineering notebooks, there are two options for either individual (Google Doc/.docx/.pdf) or team (Google Doc/.docx/.pdf) engineering notebooks. Review the expectations of the engineering notebook as a whole class before students begin testing their towers in pairs or small groups. Have the expectations for the engineering notebook printed or available on an LMS platform for the students to reference throughout the activity.
Prepare for the Tower Strength Challenge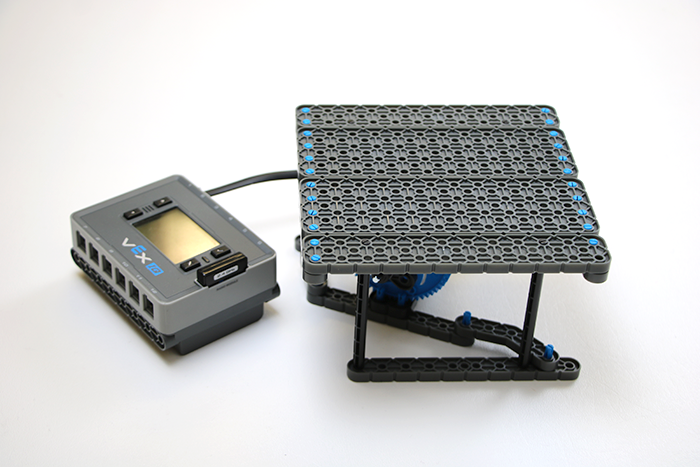 Running your Earthquake Platform
This challenge will require you to run the Earthquake Platform. The Earthquake Platform uses the Device Info feature of your VEX IQ Robot Brain to activate and deactivate the motor. No programming is needed!