Mechanical Advantage Preview
12-18 years old
180 minutes
Beginner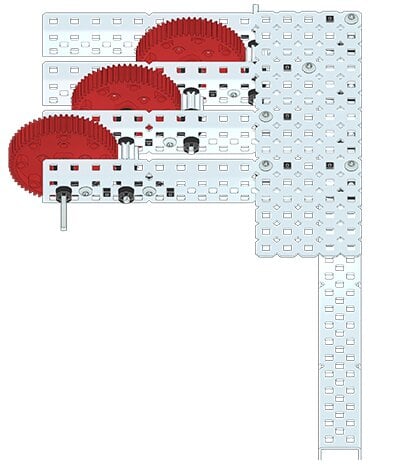 Description
Learners explore how mechanical advantages and gear ratios can be applied in their builds, daily lives, and in robotics competitions.
Key Concepts
Mechanical advantage

Speed

Torque

Gear Ratio
Objectives
Create torque and/or speed advantages in designs

Analyze situations to know what type of gear ratio is needed in a design

Apply concepts of torque and speed advantages to understand new devices

Understand how to design and create devices with mechanical advantages from VEX V5 parts
Materials needed
VEX V5 Classroom Starter Kit

Engineering Notebook
Facilitation Notes
Ensure all required parts for the build are available prior to starting this STEM Lab.

Turning the high-geared end of the gearbox build may be difficult. Be sure to have Shaft Coupler pieces on hand to attach pieces that will be more easy to turn.

You can use different gears to adjust some of the gearing ratios within the build.
Further Your Learning
Math
Continue to work with other gears and utilize ratios to determine patterns in usage.

Watch videos of racing and try to find examples of gear ratios and torque in real world usage.
Educational Standards
Standards for Technological Literacy (STL)
1.L

2.V

2.X

2.FF

3.J

7.E

9.I

9.J

9.K

12.N

12.O

16.C

17.A

17.K

19.P

20.L
Next Generation Science Standards (NGSS)
HS-ETS1-2

HS-PS2-1

HS-PS2-2
Common Core State Standards (CCSS)
6.EE.A.2

6.NS.C.5

7.EE.B.3

MP.2

RST.11-12.7

RST.11-12.8

RST.11-12.9

RST.6-8.1

RST.6-8.3
Texas Essential Knowledge and Skills (TEKS)
111.39.c.1.B

111.39.c.1.A

111.39.c.1.B

111.39.c.1.C