12 - 18 years old
45 minutes - 4 hrs, 35 min
Beginner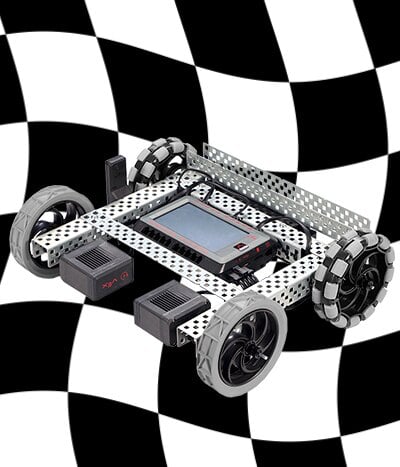 Description
Students are asked to use proportional reasoning and scale to design a racecourse for the Speedbot.
Key Concepts
Mathematical Reasoning

Proportional Reasoning

Iterative Design
Objectives
Create a racecourse by planning with scaled drawings.

Analyze relationships between scaled measurements.

Practice converting units.

Understand the use of scales and proportional reasoning.
Materials needed
1 or more VEX V5 Classroom Starter Kits

Roll of Tape

Meter Stick or Ruler

Calculator

Engineering Notebook

Stopwatch

Multiple boxes

3-Ring Binders
Facilitation Notes
Ensure all required parts for the build are available prior to starting this STEM Lab.

Although the V5 Robot Brain is included in the build of the VEX V5 Speedbot, no programming is required.

Make sure that there is ample space in the classroom to measure out and tape the field area for the racecourse that will be used.

Providing a set space to create a racecourse within can help expedite initial decisions for the design area.

An engineering notebook can be as simple as lined paper within a folder or binder. The notebook shown is a more sophisticated example that is available through VEX Robotics.

During the iterative design process prior to the challenge, teams should be testing the accuracy of their measurements and mathematical conversions.

The approximate pacing of each section of the Stem Lab is as follows: Seek- 125 minutes, Play- 85 minutes, Apply- 15 minutes, Rethink- 45 minutes, Know- 5 minutes.
Further Your Learning
Math
Add other items to the physical racecourse, based on scale. Some items could include, stands, a press box, concession stand, trees, benches, etc.

Draw a map of the school campus or other well-know location in the school community with the correct scale.
Social Studies
Look at various maps to compare the scales used. Have the students create their own set of questions and then trade with each other to solve.

Research how cartographers use technology to help create more accurate maps.
Educational Standards
Standards for Technological Literacy (STL)
Next Generation Science Standards (NGSS)
Common Core State Standards (CCSS)
RST.9-10.3

RST.11-12.3

HSN.Q.A.1

HSA.CED.A.1

MP.4

MP.5

MP.6

CCSS.MATH.CONTENT.6.RP.A.1

CCSS.MATH.CONTENT.6.RP.A.3.D
Texas Essential Knowledge and Skills (TEKS)