Speedy Delivery Preview
12-18 years old
45 minutes - 5 hours, 45 minutes
Intermediate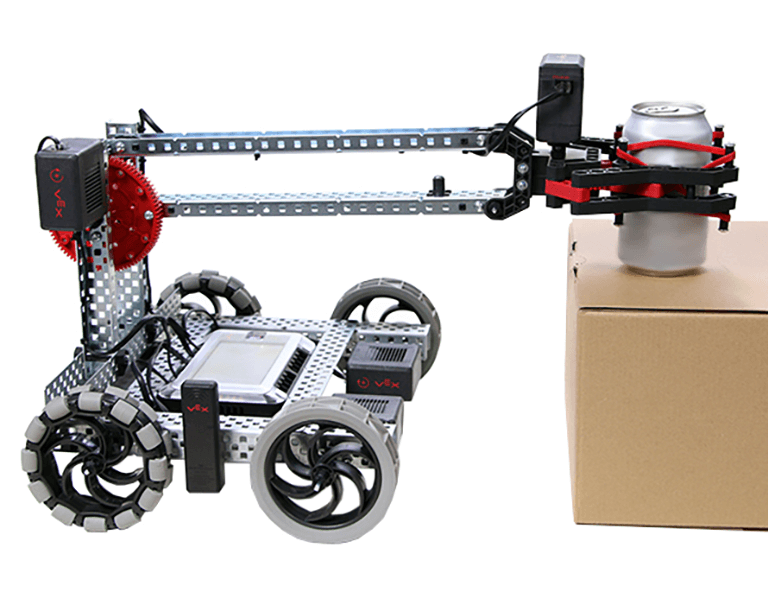 Description
Students are asked to program a robot to navigate a warehouse and to prepare packages for delivery.
Key Concepts
Programming

Robot Behaviors

Iterative Design
Objectives
Apply building directions to create a robot to complete a specific task.

Decompose problems into smaller components through systematic analysis, using constructs such as procedures, modules, and/or objects.

Differentiate between the commands Drive Forward and Drive in Reverse, Turn Left and Turn Right, Arm Up and Arm Down, Open Claw and Close Claw.

Utilize the Arm Up and Arm Down, Open Claw and Close Claw commands in an project-based activity.

Explain why advances in robotic development is leading to more precise movements.
Materials needed
1 or more VEX V5 Classroom Starter Kits

Roll of tape

12 x 12 foot or 3.66 x 3.66 m open area

Optional: VEX Robotics Competition Field Perimeter and Tile kits.

Meter stick or Ruler

Engineering Notebook

Aluminum cans

Boxes of various sizes

9+ textbooks

Stopwatch

VEXcode V5 
What You'll Need to Know
Programming Forward and in Reverse

Programming Turning Right and Turning Left
Facilitation Notes
Ensure all required parts for the build are available prior to starting this STEM Lab.

Make sure that there is ample space in the classroom to measure and tape the layout of the "warehouse" that will be used in the activity. If you have a VRC Field Perimeter and Tile kit, you may set up the Package Dash Challenge using it. If not, tape can be used to outline the measurements.

If multiple students will be downloading their saved projects to the same robot, have the students add their initials to the name of the saved project (For example, "Forward and Backward_MW). This way students can find and make adjustments to their projects and not others.

An engineering notebook can be as simple as lined paper within a folder or binder. The notebook shown is a more sophisticated example that is available through VEX Robotics.

Students can share their pseudocode with the teacher for feedback prior to creating the project for feedback.

Students can create and expand on the warehouse floor plan to explore different programming options.

The approximate pacing of each section of the Stem Lab is as follows: Seek- 155 minutes, Play- 70 minutes, Apply- 15 minutes, Rethink- 105 minutes, Know- 5 minutes.
Further Your Learning
English/Debate
Discuss the pros and cons of robots completing more job related tasks as technology develops.

Research and write about other areas where robotic precision is being developed or should be explored.
History
Write a paragraph or create a timeline sharing the highlights of industrial robotic development from 1954 until present day.
Educational Standards
Standards for Technological Literacy (STL)
Next Generation Science Standards (NGSS)
Computer Science Teachers Association (CSTA)
3A-AP-17

3A-AP-21

2-AP-19

3A-IC-24
Common Core State Standards (CCSS)
RST.9-10.2

RST.9-10.3

MP.5

MP.6
TEKS
126.40.c.5.A

126.40.c.5.B

126.40.c.3.A

126.40.c.3.B

126.40.c.3.F

126.40.c.3.G

111.39.c.1.C