The Complete Look of the Build
In this Seek section, you will be preparing for the Play section by turning on your Brain, reviewing port configurations, and recording mastering values. You will follow the Seek Checklist to ensure everything is ready for Play. Your Workcell build should match the image below.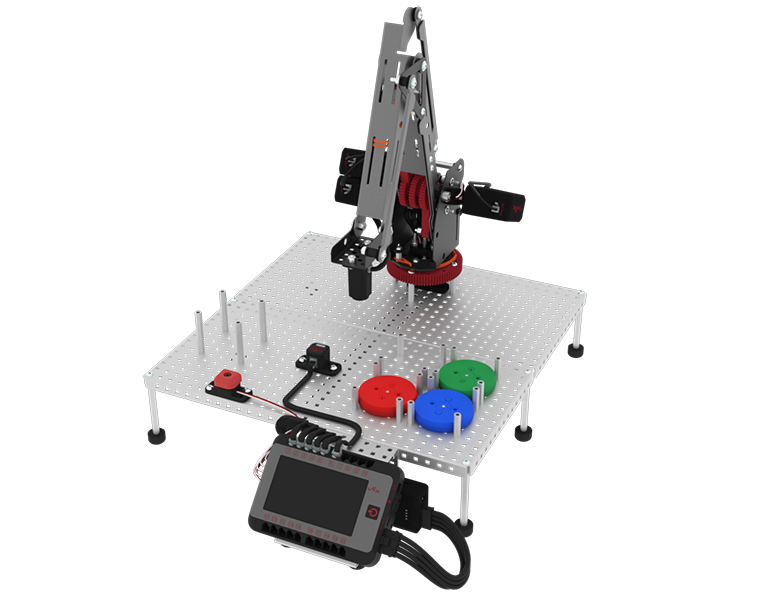 Seek Checklist
Prepare for the rest of the Lab by ensuring each of these items have been complete.
Is the battery charged?
Is the battery attached to the Brain?

Is the Brain on and connected to your device?

Is VEXcode V5 open?
Are the port configurations correct? Reference the Port Configurations section on this page to check if they are correct.
Check and record mastering values. Follow the steps on the Mastering Values page in the Seek section for how to find those values.
Port Configurations
In order for the arm mounted on the Workcell to work as intended, each joint has a potentiometer and motor that will need to be plugged into the proper port. The breakdown of where to insert each of these cables is covered in the Lab 1 Build Instructions. This 3D model and chart is provided as an additional reference for guidance to ensure each motor and potentiometer is connected correctly before moving on with the Lab, as this is crucial to the arm's movement.
https://sketchfab.com/3d-models/workcell-joints-f9f45dc0c07449af8192c53774390ed2?utm_medium=embed&utm_campaign=share-popup&utm_content=f9f45dc0c07449af8192c53774390ed2
Each joint has a specific port assigned to it. The Potentiometers will go into the lettered, 3-Wire Ports and the Motors will go into the numbered, smart ports.
| Joint Number | Motor - Smart Port | Potentiometer - 3-Wire Port |
| --- | --- | --- |
| 1 | 1 | A |
| 2 | 2 | B |
| 3 | 3 | C |
| 4 | 4 | D |
Additional Devices:
Bumper Switch: 3-Wire Port E
Electromagnet: Smart Port 5
Optical Sensor: Smart Port 6