Build Instructions
Teacher Toolbox - Facilitating the Build
In this Seek section, groups will remove the marker attachment and whiteboard from their Workcell build and attach the V5 Electromagnet and standoffs.
What the Teacher Will Do:
Tell students get into their groups with their assigned Workcells.
Instruct groups to follow the Build Instructions linked on this page.
As groups are building, circle the room and assist as needed.
Go to the V5 Workcell Educator Certification for additional suggestions on facilitating the build.
| | |
| --- | --- |
| 1 per group | V5 Workcell |
| 1 per group | |
| 1 per group | Engineering Notebook |
| 1 per group | Device to run VEXcode V5 |
| 1 per group | Micro-USB cable |
| 1 per group | |
Select the button below for the V5 Workcell Lab 7 Build Instructions.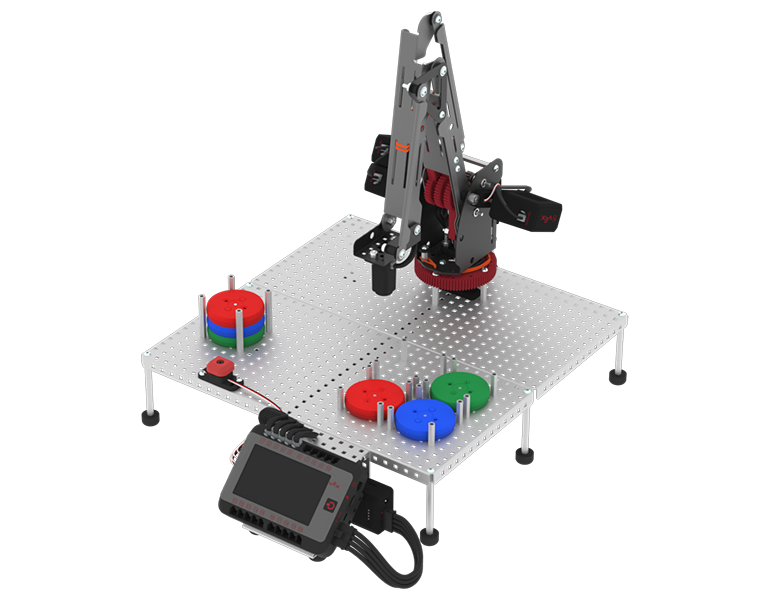 Teacher Tips
Use the open ended wrench to hold the nylock nut in place while unscrewing in the star drive screw during the removal of the whiteboard and marker attachment.

If students are struggling to add the electromagnet to the tool plate, remove the mastering jig in order to extend the arm slightly. This will allow more room to add the electromagnet.
For more tips and guidance while building, go to the V5 Workcell Educator Certification.