Background
What is a Programming Language?
Programming language is the communication between a computer and a programmer. These programming languages follow step-by-step instructions that a computer understands in order for its programs to work. Children experience programming languages in early coding by creating simple commands using directional language. Creating these commands requires students to combine communication, thinking, and problem solving skills. The 123 Robot uses the Coder and Coder cards as the programming language.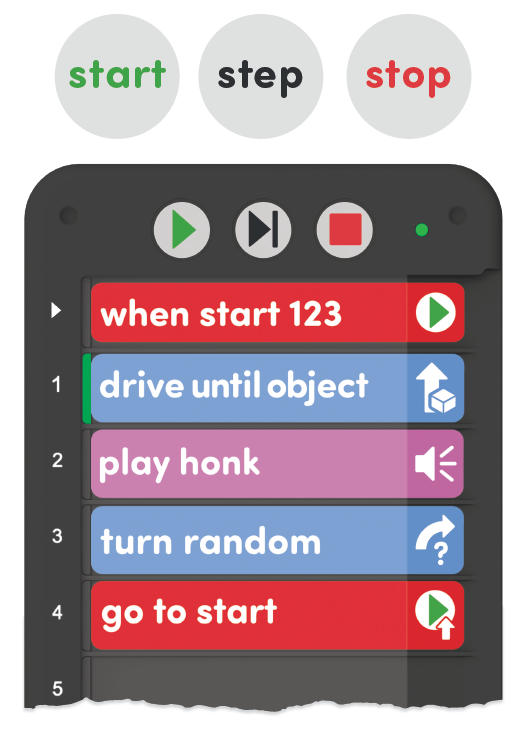 What is a Sequence?
Sequencing is the order in which commands are executed, one after another.  An action or event leads to the next ordered action in a sequence. Sequencing is important so students can program their 123 Robot correctly.
Move forward one space
Turn right
Move forward two spaces
Students will program the 123 Robot using various commands from the Coder cards to find treasure on a map in Lab 2. If the students do not have their cards in the proper sequence, then the 123 Robot will be unable to reach the treasure. This is where students can learn about trial and error and learning from their mistakes.
What Coder Cards Do You Need?
Coder cards represent 123 Robot commands that are inserted into the Coder and used to program the 123 Robot. There are 7 different color-coded categories of Coder cards; included in each category are matching color-coded Coder cards. Listed below are the Coder cards needed throughout the Intro to Coding Unit and their meaning.
Event
| Card | Meaning |
| --- | --- |
| | When Start is pressed, the project will start. |
Motion
| Card | Meaning |
| --- | --- |
| | 123 Robot will drive forward 7 cm (3 in). |
| | 123 Robot will drive forward 15 cm (6 in). |
| | 123 Robot will drive forward 30 cm (12 in). |
| | 123 Robot will turn left 90 degrees. |
| | 123 Robot will turn right 90 degrees. |
| | 123 Robot will turn in a random direction. |
| | 123 Robot will turn around 180 degrees from its starting location. |
| | 123 Robot will drive until the Eye Sensor detects an object.  |
| | 123 Robot will drive until the accelerometer reports that the 123 Robot ran into another object.  |
| | 123 Robot will drive until the Eye Sensor detects a line. |
| | 123 Robot will stop completely. |